Access to remedy
Occupational hazards, worker exploitation, child labor and the destruction of critical natural ecosystems are prevalent in the supply chains of many companies. Such severe harm to people and the natural environment can be a result of actions or omissions of one or more actors in the concerned supply chain.
The UN Guiding Principles and the OECD Guidelines prescribe that States take appropriate actions to ensure those harmed by corporate actions or omissions, have access to effective remedy. Depending on their specific connection to the harm in question, companies have various forms of responsibilities to (help) alleviate the harm. Access to remedy therefore concerns both governments and companies.
This featured page delves into the access to remedy expectations for companies in particular, and provides insights into how this expectation can be met by companies.
---
What is access to remedy?
For companies, access to remedy is part of the due diligence process. It concerns providing the opportunity for victims of abuse to seek redress from a company that caused or contributed to the abuse. Remediation can be in many forms. The UN Guiding Principles cites for example for the following forms of remedy: Apologies; Restitution; Rehabilitation; Financial and non-financial compensation; Punitive sanctions; Prevention of harm (see UNGPs Principles nr. 25).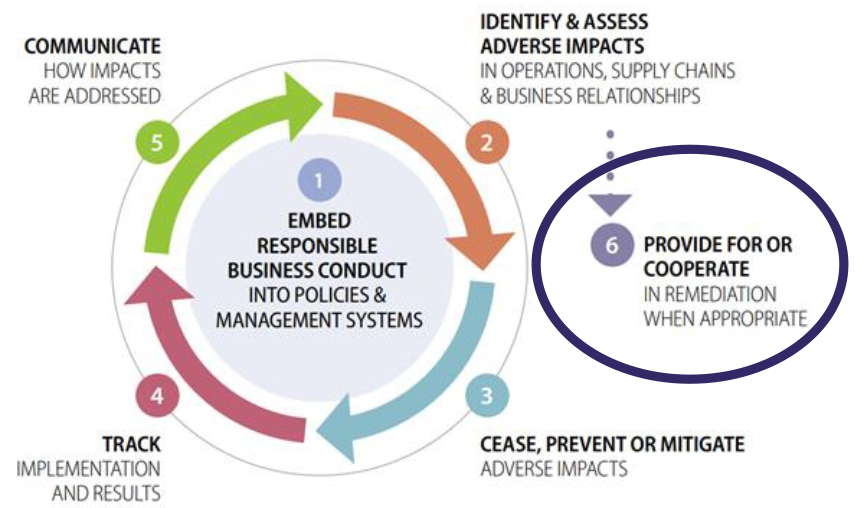 Access to remedy is also about having processes in place, participating in or being part of mechanisms through which stakeholders can inform companies about potential issues in their own operations or supply chains, and which allow potential victims to be heard and taken seriously. Such processes must meet the effectiveness criteria prescribed by the UN Guiding Principles (see UNGPs Principles nr. 31).
In exercising risk-based due diligence, companies must proactively map out the risks to people and the environment in their own operations and throughout their entire supply chains. They must do everything reasonably possible to limit, stop and prevent severe negative impacts. It includes monitoring the impacts of their actions and omissions, communicating how identified risks are handled and, where necessary, addressing the negative impact.
There is a global gap in relation to ability of affected stakeholders to secure remedy for the harm they experience. In some cases, the gap is caused by stakeholders' lack of awareness about their rights and the avenues to seek redress. In other cases, it concerns an unwillingness of those causing or contributing to the harm to take responsibility for this. NGOs and trade unions, and their local networks, play an important role in the dissemination of knowledge about the access to remedy expectation. New technologies are also being utilised to enable remediation. For example, mobile apps are used to remotely report identified impacts to dispute resolution bodies. Some companies and international RBC agreements have their own (internal) complaints/grievance mechanisms.
---
When should a company remediate adverse impacts?
If a company encounters many adverse impacts which it cannot tackle all at once due to resource constraints, it is excepted to use the prioritization criteria of the UNGPs to determine and communicate about which impacts it will be addressing first within a certain timeframe. The other identified risks and impacts should also be addressed accordingly in due time. The prioritization exercise is done by determining the severity and likelihood of the identified negative impacts and taking actions on the most severe risks first. It is pertinent a company consults rightsholders in the prioritization exercise.
The extent to which companies need to take action to address identified negative impacts, depends on the degree of their involvement. Companies that actually caused or contributed to adverse impacts must provide remediation to the victims. In the first case, think of a company that itself discharges toxic substances into a river. Or a company that knows that the security company it hires is using excessive force. You can contribute to harm, for example, by setting an unrealistic deadline for an order, so that employees are forced to work unhealthy overtime.
The third, lightest category consists of companies that are 'directly linked' to an abuse. This means that the harm occurs somewhere in a company's supply chain. When a company discovers this, it should use its influence to limit and prevent the adverse impact. For example, it can, acting alone or together with other companies in the sector and / or civil society organisations, send a letter to the supplier that violates the OECD Guidelines to persuade the later to correct the adverse impact caused.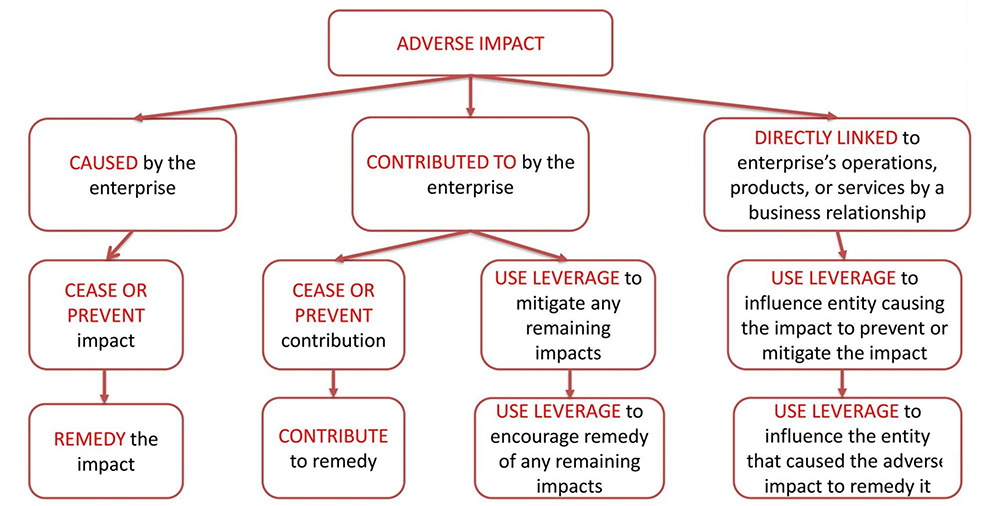 Who can potential victims contact?
In the first place, all companies are expected to have an early warning system in place through which they can be informed of negative impacts in their own operations or supply chains. Such early warning systems can also be part of an effective grievance mechanism established by the company or of which it is a part of. Companies are expected to enter into dialogue with relevant stakeholders to resolve such issues. A grievance mechanism is said to be effective if it meets the effective criteria articulated by the UNGPs (see UNGPs Principles nr. 31).
In an ideal world, the governments in production countries would have effective (judicial and non-judicial) systems in place locally for settling business and human rights related disputes. However, this is not always the case. That is why every country that adheres to the OECD Guidelines is expected to have a well-resourced National Contact Point (NCP), which is responsible for handling enquiries and contributing to the resolution of conflicts rising from the conduct of companies.
NCPs handle specific complaints about companies that do not adhere to the OECD Guidelines and fall within the jurisdiction of an OECD adhering country. They are independent, state-based non-judicial bodies, that facilitate mediation between the complainant and the company in question. The procedure is accessible and cheap, because no lawyers are needed. That is an advantage for the victims.
The NCPs cannot impose formal sanctions or force the cooperation of companies. In a final statement, it makes recommendations to a company in situations where no agreement was reached during mediation. It can propose remedies which a company needs to provide if found to have not acted in accordance with the OECD Guidelines. The procedure is, in principle, confidential which means that it does not immediately end up on the front page of the newspaper. The recommendations, however, are public. The main goal is to find a solution that is acceptable to both parties and that prevents reputation damage and escalation. See for more information the NCP in the Netherlands (in Dutch).
National court systems, National Human Rights Institutions and multi-stakeholder grievance mechanisms can also be used by victims to claim remediation for harm caused by companies.
---
Access to remedy in practice
International RBC agreements across every sector recognise the critical role for remedy when negative impacts occur. Yet the parties to these are struggling with how to translate these commitments (to remedy) into practice.
In six videos we present examples of practical and meaningful actions around access to remedy within the context of the international RBC agreements and beyond. These videos were recorded before and during an online event on access to remedy in November 2020, organised by the SER and the Dutch National Contact Point, supported by Shift. Also the presentations of the workshops can be downloaded.
Download the plenary presentation
Interview with David Kovick (Shift)
Interview with David Kovick in which he explains the concept of access to remedy and elaborates on what is expected of companies from a UNGPs point of view. Using concrete examples, he also discusses what the remedy ecosystem approach entails, and how access to remedy can be put into practice. Thereby equipping viewers with a broad understanding of the concept and providing them with ideas on how companies and other stakeholders (individually or collectively) can provide and/or support meaningful pathways to remediation for potential victims of severe human rights and environmental impacts in supply chains.
Interview with Maartje van Putten (Dutch National Contact Point for the OECD Guidelines for Multinational Enterprises)
In this interview, Maartje van Putten discusses the role of the NCP in enabling remediation for corporate human rights abuses. She elaborates on the NCP process and what happens when a company is involved in an NCP procedure. She also touches upon the changes that occur in company's behavior after it has gone through a procedure. After watching this interview, viewers will understand how the individual complaint procedure of the NCP functions as one of the remedy pathways, and how the NCP procedure relates to other grievance mechanisms, as well as to the international RBC agreements.
Workshop: Access to remedy in the garments and textile sector
Download the presentation of this workshop
This video provides insight into the practical problems purchasing companies encounter when trying to provide access to remedy for rights-holders in their supply chains, and how various companies address such problems. Clarification how the Agreement on Sustainable Garment and Textiles promotes access to remedy, and how this leads to a better understanding of the essentials of the concept.
Contributors
Dieuwertje Heyl : Programme Officer Business and Human Rights, Arisa
Margreet Vrieling : Associate director, Fair Wear foundation
Faye Donker : Social Compliance Coordinator, WE Fashion
Moderator
Jef Wintermans : Coordinator External Relations Agreement on Sustainable Garment & Textiles, SER
Workshop: Access to remedy in the extractives sector
Download the presentation of this workshop
This video aims to provide the viewer with a better understanding regarding practical measures both upstream and downstream companies can take in order to be able to provide for or contribute to remediation in accordance with the UN Guiding Principles on Business and Human Rights and the OECD Guidelines for multinational enterprises. It also contains insights on how trade unions, NGOs and the government can facilitate access to remedy at the downstream level. Last but not least it touches upon how the different RBC agreements could work together to promote and implement access to remedy.
Contributors
Joseph Wilde : Senior Researcher, SOMO
Vittoria Franchini : Manager, Kumi Consulting
Tirza Voss : Sustainable Materials & Mining Manager, Fairphone
Moderator
Manuella Appiah : Team Lead Extractives Sector Agreements, International RBC Programme, SER
Workshop: Access to remedy in the financial sector
Download the presentation of this workshop
The video serves to provide the viewer with a better understanding of the responsibilities of the financial sector when it comes to access to remedy and remediation and best practices in this regard. It further explore the responsibilities of financial institutions with an emphasis on institutional investors.
Contributors
Stina Nilsson : Associate Director Engagement Services, Sustainalytics
Thijs van Brussel : Program Leader Natural Resources, Conflict and Human Rights, Pax
Moderator
David Kovick : Senior Advisor, SHIFT
Workshop: Access to remedy in the agro food sector
Download the presentation of this workshop
This video explains how value chain partners can successfully cooperate to come to an inclusive system which effectively enables access to remedy to those who experience negative impacts. It discusses the roles different parties along the value chain should and can play, also considering their specific contexts. Finally, it looks at existing mechanisms (pathways to remedy) and their role in providing access to remedy. Specific attention is paid to the role of Dutch businesses in their efforts regarding access to remedy, to the international RBC agreements.
Contributors
Marco Dubbelt : Senior programme manager, Global March Against Child Labour
Lea Esterhuizen : CEO, &Wider
Tytti Nahi : Lead on Business and Human Rights, Fairtrade
Marieke de Vries-den Hollander : IRBC manager, CNV International
Kunera Moore – Korthals Altes : Global Lead Child Labor, Rainforest Alliance
Rashida Nakabuga : Country Director Uganda, Rainforest Alliance
Paul Schoenmaker : Head of Impact, Tony's Chocolonely
Moderator
Ruud van Soelen : Senior Policy Officer Food Products Agreement, SER
---
Further reading