Seminar 'beyond auditing' takes brands towards systemic change
Early this month we had the opportunity to present the Dutch Agreement for Sustainable Garments and Textile (AGT) at the seminar 'beyond auditing', organised by the German Textilbündnis.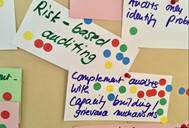 © SER
Participants discussed with companies and stakeholders how the process of doing due diligence brings companies beyond auditing towards building the blocks for the much needed systemic change of the garment sector. The AGT due diligence cycle presents brands a framework to do business in a different way, a more sustainable way. Based on the UNGP's and OECD guidance on due diligence in the garment sector. The top down traditional 'social compliance' approach towards suppliers is now more and more replaced by the notion of supply chain responsibility, where buying brands have a role to play as well.
Audits need to be complemented with insight into wider risks of harm and with insights on what suppliers need in order to improve and be enabled to keep to social standards, pay a decent wage and produce more sustainable. This includes what companies can do to prevent harm, by changing the way brands design, plan production, source and set prices, and integrate this systematically in their policies, systems and operations. In this new era, not only factories have to show and comply, brands have to show how they prevent and deal with harm too, and enable suppliers to also do so. This includes changing their way of doing business through their purchasing practices. Not only actual audit findings need to be addressed , but also the prevention of potential risks. It is not only about auditing, but also about other actions needed to actually get a full picture of the risks of harm involved and to be able to make a change for the better and address root causes. Companies have to actively involve stakeholders (including workers and their trade unions) and organise feedback of suppliers through sourcing dialogue and for example Better Buying surveys. Participating companies and stakeholders stressed that risk based audits also need to be complemented by capacity building at supplier level and grievance mechanisms.
On behalf of AGT, Ruth Vermeulen of the secretariat shared several examples of how AGT-companies are changing their way of doing business, such as Zeeman, C&A, WE Fashion, G-star and Yongo. With Juliette Li from Fair Wear Foundation there was a group exercise on going from an audit report on a specific factory to identify the different steps that can be taken from a due diligence risk based approach.
Alignment on this approach among international initiatives and their members, such as the German TextilBündnis, the Dutch Agreement on Sustainable Garments and Textile, Fair Wear Foundation and amfori present, will increase the impact of a more holistic and concise due diligence approach of their involved companies, towards preventing and tackling harm in global garment supply chains.