Clothing companies increase transparency by signing the Transparency Pledge
The number of clothing and textile companies which endorse the Transparency Pledge goes up again.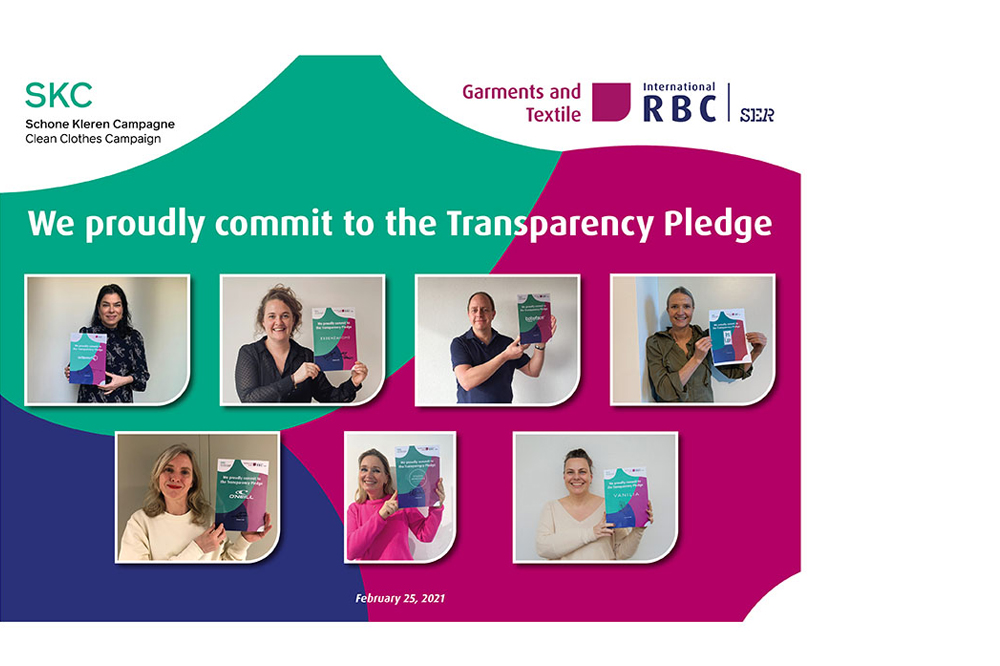 De Bijenkorf, Essenza Home, Euretco Fashion (Babyface), L. ten Cate, O'Neill Europe, Studio Anneloes and Vanilia - all participants in the Dutch Agreement on Sustainable Garments and Textile - signed the declaration today. With this pledge they commit, among other things, to announce where they produce their clothing, what type of clothing is made there and how many people are working at these sites. This brings the total number of participants of the Agreement who comply with the Transparency Pledge to 18.
Within the Dutch Agreement on Sustainable Garments and Textile (AGT), all participating companies announce their production locations through an aggregated list via the Open Apparel Registry (OAR). The signatories of the Transparency Pledge also publish additional information twice a year on their own website and on the OAR as an individual company. Disclosure of production locations is a prerequisite for improving conditions in garments and textile factories. With this information, (local) stakeholders such as employees, trade unions and civil service organizations can, for example, raise abuses around working conditions, so that they can take action. The Transparency Pledge is established in 2016 and is an initiative of a number of labor and human rights organizations, including the Clean Clothes Campaign.
"The Agreement's production location list provides an overview of the locations of all participating companies. With the signing of the Transparency Pledge, companies are taking an extra step to make their role in the chain even more transparent. We warmly welcome this, because good insight into the production chain is a precondition for making it more sustainable, "said Pierre Hupperts, chairman of the Dutch Agreement on Sustainable Garments and Textile.
Clean Clothes Campaign is also pleased that more companies are endorsing the declaration. Bram Joanknecht, Advocacy & Lobby Coordinator: "It is good news that these companies are taking steps to make their supply chains more transparent. The Transparency Pledge provides a standard for transparency within the apparel industry, we hope more companies will follow this initiative and sign the Pledge."
Signatories
In addition to individual mention on the OAR, the following AGT-participants previously signed the Transparency Pledge. They have been committing themselves to further transparency for some time now:
C&A (2016)
Esprit (2016)
G-Star Raw (2017)
HEMA (2019)
Kings of Indigo (2019)
Kuyichi (2019)
Marlies Dekkers (2019)
Okimono (2019)
Schijvens Corporate Fashion (2019)
WE Fashion (2019) Zeeman (2019)