Steltman Jewellers signs Dutch Responsible Gold Agreement
Steltman Jewellers has become party to the Dutch Responsible Gold Agreement. With two exclusive shops in The Hague, Steltman is one of the Netherlands' oldest and best known jewellers, with its own studio and a clientele that includes royalty. It is the latest party to join the Dutch Responsible Gold Agreement.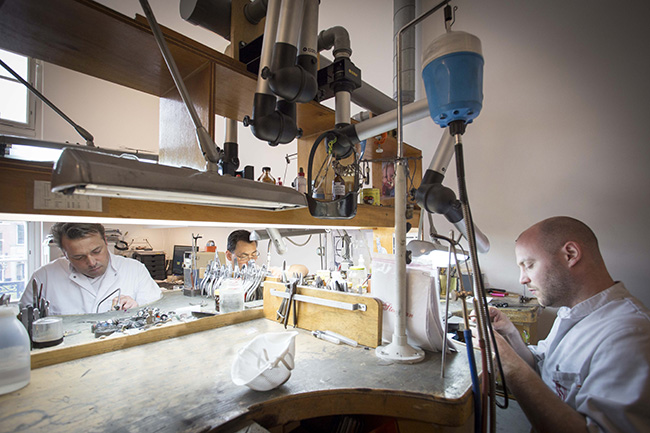 Steltman Jewellers | © Gemeentemuseum den Haag
The Dutch gold sector is cooperating to ensure responsible business conduct in the international gold value chain. By signing the agreement, Steltman has become part of that alliance. The aim of the agreement is to ensure greater respect for human rights, the environment and biodiversity throughout the chain, from mining to recycling. Some of the associated risks are too complex for an individual business to tackle on its own. The agreement makes it possible for parties in the sector to work together to tackle broad issues.
Steltman Jewellers
Steltman Jewellers is renowned for its watches and jewellery. It has its own watchmaking studio and jewellery studio that create exquisite designs, with four master goldsmiths who also restore, repair and alter jewellery.
'Quality, expertise and skill are a priority for us,' says Erik Nieuwenhuys of Steltman. 'It's important for us to know where our products and raw materials come from. It goes without saying that we support the idea of a sustainable and responsible gold sector. After all, creating jewellery should be a rewarding experience for everyone working in the chain. So it was logical for us to sign the Responsible Gold Agreement. We're proud that we can now take action with other parties to ensure a responsible gold chain.'
The Dutch gold sector
The Netherlands plays a minor role in the global gold sector. Gold is mainly used in jewellery, electronics and coins here. Europe accounts for two percent of world gold consumption. Every year, almost 4300 tonnes of gold come on the world market. Of that amount, 66 percent is new gold and 34 percent is recycled.
Taking part
The Dutch Responsible Gold Agreement became effective on 19 June 2017 for a five-year period. By entering the agreement now, Steltman Jewellers will be able to work with the other parties on joint plans for the coming period. Do you work with gold too? Then join the Agreement!