State of play, International RBC agreements
A number of sectors have already concluded international RBC agreements while others are still discussing the possibility of such an agreement. A list of agreements and the current state of play are summarised below.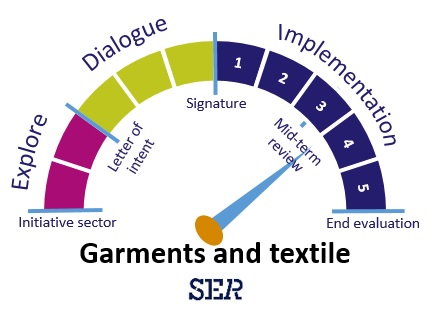 Some 93 brands have signed up to the agreement, representing around 48% of the market (as of Dec. 2018). The parties to the agreement also include two trade unions, the Dutch government, three industry associations and five NGOs.
The second annual report was published in April 2019. The annual report explains how the participating companies were assessed.
Three collective projects are under way involving cooperation between companies and parties. They focus on living wage, child and forced labour in India and Bangladesh, and dye houses in China. The living wage project is compulsory for all signatories starting in the third year of their participation.
A list of the Production sites of companies that have signed the agreement can be found online. A new list is published every year on 4 July. This information enables local trade unions and NGOs to report malpractices in the production and supply chain to the secretariat for the agreement. So far, several instances of malpractice have been reported and addressed. Participating companies also report on the materials that they use every year. The number of listed production sites has increased from 2,802 in late 2016 to 4,268 in late 2017 and 6,289 in late 2018. The increase is due in part to new information emerging about the value chain and because new companies have joined the agreement.
All companies perform their annual due diligence (RBC risk management). An assessment framework is used to evaluate the annual action plans that they draw up for this purpose.
Companies and parties have been trained in performing due diligence and in how to approach issues related to living wage, procurement practices, animal welfare and freedom of association.
An independent

complaints and disputes

mechanism has been set up and procedures have been published, which is unique anywhere in the world.
A report on Animal Welfare in the Garment Sector has been drafted and published, as well as fact sheets on animal welfare.
Companies that sign up to the agreement are expected to communicate publicly about their due diligence by the third year at the latest. This means that companies that signed the agreement in 2016 started communicating publicly in 2019 in line with the 'criteria for communication by companies'. Links to their communications can be found here.
Statements of support have been received from 15 national and international initiatives and organisations.
Upscaling to international level: close cooperation with German sister initiative Textilbündnis.
Agreements were reached in the second half of 2018 with the OECD, Textilbündnis and the Sustainable Apparel Coalition on an Alignment Assessment whereby the instruments and methods developed by each initiative will be examined in relation to the due diligence requirements set by the OECD Guidelines for Multinational Enterprises (2011). The results of the assessment are expected in 2019.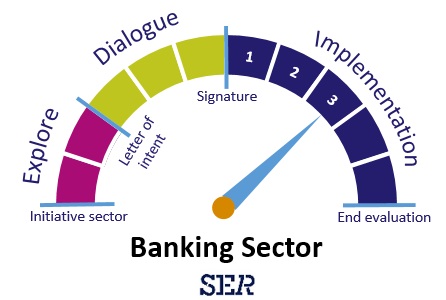 Under this agreement, 11

banks

operating in the Netherlands have, for a three-year period, committed to working with two Dutch ministries (Finance and Foreign Affairs), two trade unions and four NGOs to address human rights violations by clients of member banks.
The

first annual report

(on 2017) was published in August 2018 and the second (on 2018) in September 2019.
An independent monitoring committee assessed the extent to which provisions of the agreement are being complied with and made recommendations to that effect.
Banks and parties have expressed their views on enabling remediation in the banking sector and have published a paper on the subject.
An analysis and a progress report on applying (individual and collective) leverage have been published.
Based on a

report

by law firm Nauta Dutilh, parties explored options for displaying more transparency about their customer relationships.
Banks have opened their complaints procedures to third parties.
The trade unions in the Value Chain Working Group organised a field trip for banks to palm oil plantations in Indonesia.
Various activities were undertaken last year, such as training for bank staff, human rights reports with an additional focus on salient risks, and cooperation between banks with regard to international RCB.
Responsible Gold Agreement: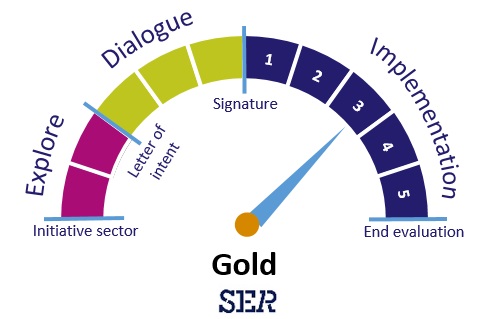 Twelve companies in the value chain have, for a five-year period, committed to working with the Dutch government, one trade union, three NGOs and two industry associations to achieve a substantial positive effect in the international gold supply chain and to reduce (possible) adverse effects on human rights and/or the environment and biodiversity.
The second annual report was published in September 2019. It links to a video (in Dutch) about the purpose of the agreement. Five of the affiliated companies have so far published a due diligence report in the second year; in the first year, that number was eight.
A project intended to combat child labour and improve working conditions in small-scale gold mines in Uganda is making good progress.
Various tools have been developed under the agreement to help companies carry out due diligence, such as a questionnaire, an 'OECD guidelines for dummies' manual and a checklist for due diligence reports.
Participation in the Responsible Jewellery Council's consultations on reviewing the Code of Conduct and the World Gold Council's consultations on developing Responsible Gold Mining Principles.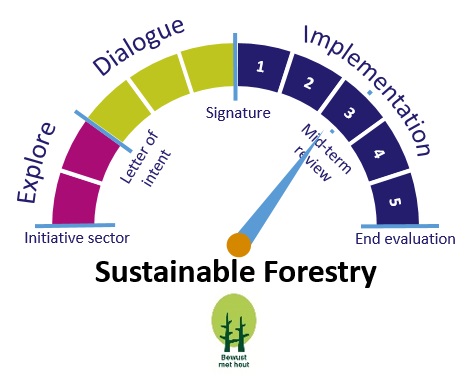 Twenty-three parties have signed the agreement, of which 13 are industry associations, representing a total of more than 12,000 companies.
The secretariat is hosted not by the Social and Economic Council of the Netherlands but by Stichting Bewust met Hout.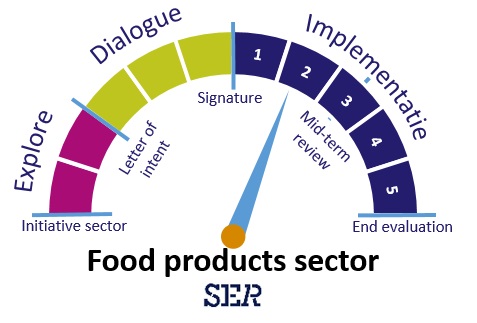 In June 2018, three industry organisations signed up on behalf of all their members and are collaborating with three NGOs, two trade unions, two ministries and the Dutch Sustainable Trade Initiative (IDH), a research organisation, to create a responsible supply chain.
The monitoring tool for assessing progress in due diligence is accessible to the public and was rolled out for the first time in May 2019.
There were joint training sessions on living wage and due diligence and an inspiration session for companies.
A Due Diligence Manual in line with OECD Guidelines was assembled and published.
A collective project was launched with the cooperation of various supermarket chains on living wage in the banana supply chain.
The first annual report was published in September 2019.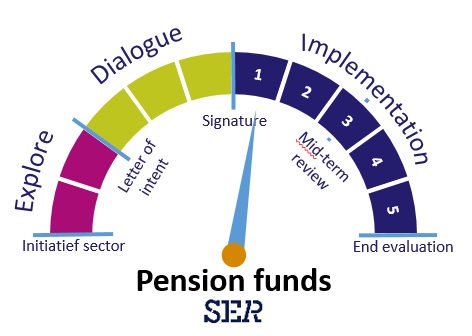 Since December 2018, 81 Dutch pension funds, the Federation of the Dutch Pension Funds, NGOs, trade unions and the Dutch government have signed a Pension Funds Agreement on International Responsible Investment. The agreement is meant to help pension funds to gain a clearer picture of the international investment chain and thus prevent or tackle issues such as human rights violations and environmental damage.
The independent monitoring committee conducted its baseline assessment. The results were published in November 2019.
The parties are working together in the 'Deep Track', with pension funds, NGOs, trade unions and government cooperating on practical cases so as to learn from one another and to maximise their positive impact. The first two cases were launched in 2019.
The first set of instruments will also be published in December 2019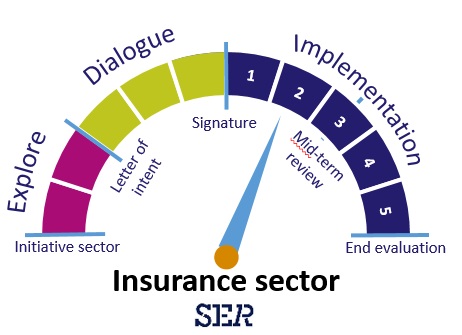 In July 2018, two industry organisations signed up on behalf of all their members and are collaborating with six NGOs, one trade union and two Dutch ministries to promote responsible investment in the insurance sector.
The parties are establishing joint frameworks on such issues as animal welfare, children's rights, climate change, controversial weapons and controversial arms trade.
The parties are working to share their knowledge based on practical case studies.
The parties are cooperating on an annual theme. The first year's theme is 'Climate and energy'.
An independent monitoring committee published its baseline assessment. The results are described in the first annual report, published in October.
Natural Stone Sector Agreement (TruStone Initiative)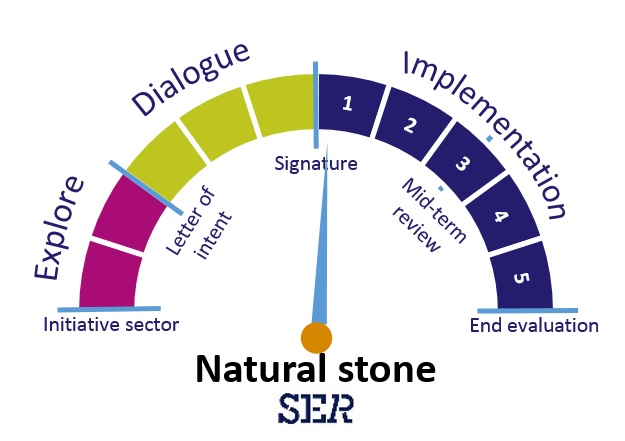 On 10 and 13 May, the governments of Flanders and the Netherlands, a trade union, various NGOs and representatives of the natural stone sector signed the international RBC Agreement in the natural stone sector, also known as the TruStone Initiative. The agreement will be rolled out officially on 1 October. Until then, Dutch and Flemish companies are being recruited to participate.
A number of RBC pilots have been running since 2017 for organisations that buy natural stone. Procurement procedures play an important role in this context.
Sustainability entrepreneur and consultant Pieter van der Gaag has been appointed chairperson.
A major launch meeting was held on 22 November for all the agreement participants.
Part of the website was translated into French to engage businesses in Wallonia as well.
New agreements
An agreement was concluded on 2 July in the floricultural sector. The dialogue is ongoing in a number of other sectors, such as the agricultural and sustainable energy sectors.