State of play
A number of IRBC agreements have already been signed, and other sectors are still in dialogue in regard to an agreement. Please find a brief overview of the state of play with all the agreements below.
Agreement for the Agricultural sector
Agreement for the Sustainable Energy Sector
There are 69 companies (92 brands) which have signed up to the agreement. In addition, two trade unions, the Dutch government, three industry organisations and five NGOs are parties to the agreement. Together, these companies now account for around 48% of the market.
Production sites of companies that have signed up to the agreement are listed online. A new list, featuring 4,268 production sites, was published on 4 July 2018. This information enables local trade unions and NGOs to report abuses in the chain to the secretariat for the agreement - 11 abuses have now been reported and addressed.
All the companies carry out their annual due diligence (RBC risk management). The annual action plans drawn up by companies on this subject are assessed according to a fixed assessment framework.
Companies and parties have been trained to perform due diligence and how to approach the living wage, freedom of association, etc.
An independent complaints and disputes mechanism has been set up and procedures have been published, which is unique anywhere in the world.
The 2018 annual report is published on April 15 2019.
Fact sheets on animal welfare have been prepared and published.
Companies that sign up to the agreement are expected to communicate publicly about their due diligence by the third year at the latest. This means that companies that signed the agreement in 2016 will start communicating publicly in 2019 in line with the 'criteria for communication by companies'.
Statements of support have been received from 15 (national and international) initiatives and organisations.
Upscaling to international level: close cooperation with German sister initiative Textilbündnis.
Agreements were reached with the OECD, Textilbündnis and the Sustainable Apparel Coalition on Alignment Assessment in the second half of 2018 of the instruments developed by each initiative in relation to the due diligence requirements set by the OECD Guidelines for Multinational Enterprises (2011). The results are expected in the first quarter of 2019.
As well as an initial joint project on child labour (started in 2017), a project on the living wage is currently being started in which all companies will participate and a project on textile dyeing in China, in which some 10-15 companies can participate.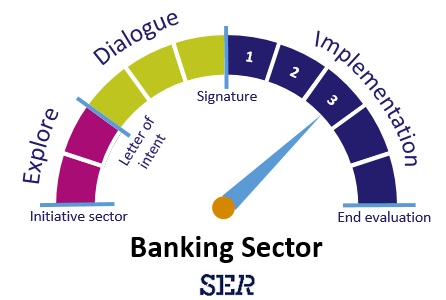 Under this agreement, 11 of the banks operating in the Netherlands are bound for three years by arrangements agreed with two ministries (Finance and Foreign Affairs), two trade unions and four NGOs to work together to combat human rights violations by customers of member banks.
The first annual report was published in August 2018.
An independent monitoring committee assessed the extent to which provisions of the agreement are being complied with and made recommendations.
A report on the value chain of the cocoa sector has been published.
An analysis of the use of joint and individual influence has been published.
Based on advice from law firm Nauta Dutilh, agreement has been reached on how banks can be more transparent about their customer relationships.
Banks have opened their complaints procedures to third parties.
Various activities were undertaken last year, such as training for bank staff, human rights reports with an additional focus on serious risks (salient risks), and cooperation between banks with regard to IRCB.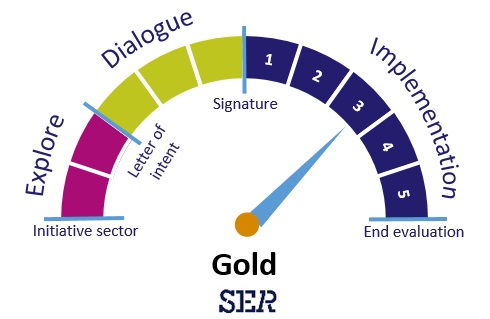 Thirteen companies in the chain are bound for five years by agreements with the government, one trade union, four NGOs and two industry organisations to achieve a substantial positive effect in the international supply chain of gold and to reduce (possible) adverse effects on human rights and/or the environment and biodiversity.
The first annual report was published in October 2018. A video has also been made about the gold agreement and the results after the first year.
Five of the member companies published a due diligence report in the first year, four of which did so for the first time as a result of their participation in the agreement.
A project has been launched to combat child labour in small-scale gold mines in Uganda.
Various tools have been developed within the agreement to help companies carry out due diligence, such as a questionnaire, an "OECD guidelines for dummies" manual and a checklist for due diligence reports.
A stakeholder meeting has been organised for (potential) new participants and students.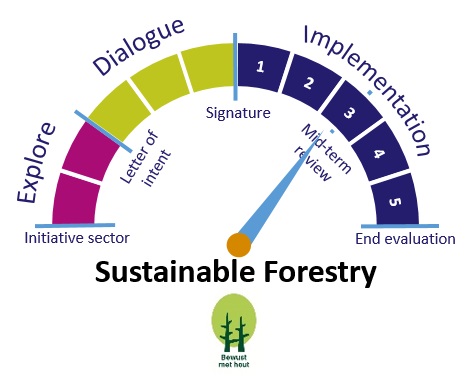 Twenty-three parties have signed the agreement, of which 13 are industry associations, representing a total of more than 12,000 companies.
Research has been conducted to investigate the extent to which the commonly used FSC and PEFC labels differ from the OECD guidelines, UNGPs and the eight ILO Core Conventions. Results are expected this autumn.
Research has been conducted into the way bottlenecks occur in certification in the supply chain. The results of this research are published on the website. A pilot project is being developed to simplify the administrative burden for businesses in the supply chain.
Research has been conducted into the opportunities and challenges for sustainable forestry in countries where forestry is still unsustainable. Based on the results of this research and an inventory of what parties are already doing in this regard, the working group has developed two possible pilot projects. The pilot projects contribute to IRBC by improving the business case for sustainable forestry. The next step is to identify funds which can be used to implement the pilot projects.
The Ministry of Agriculture, Nature and Food Quality (LNV) has commissioned the Probos Foundation to carry out a market study for 2017 to provide an insight into the market share of guaranteed sustainably produced timber. The results of this study are expected this autumn.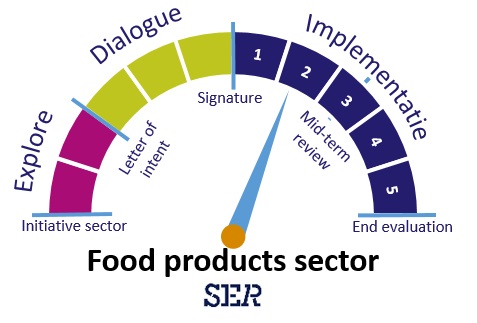 In June 2018, three industry organisations signed up on behalf of all their members and are collaborating with three NGOs, two trade unions, two ministries and the Dutch Sustainable Trade Initiative (IDH), a research organisation, to create a responsible supply chain.
Joint training courses on the living wage and due diligence have been organised.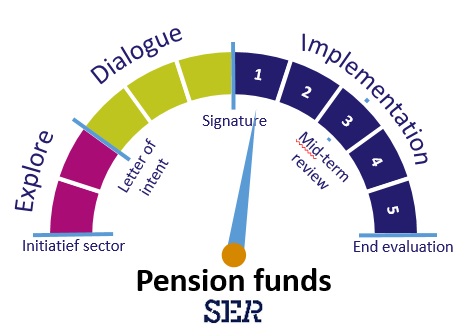 In December 2018, 73 Dutch pension funds, the Federation of the Dutch Pension Funds, non-governmental organisations (NGOs), trade unions and the Dutch government have signed an Responsible Business Conduct Agreement on responsible investment by Pension Funds. This agreement helps pension funds to gain a clearer picture of the international investment chain and thus prevent or tackle issues such as human rights violations and environmental damage.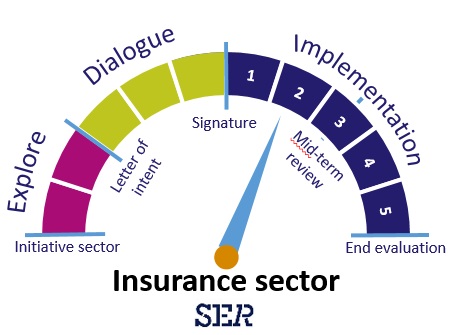 In July 2018, two industry organisations signed up on behalf of all their members and are collaborating with six NGOs, one trade union and two ministries to promote responsible investment in the insurance sector.
The dialogue is ongoing in a number of other sectors, such as pensions, natural stone, ornamental plants, metallurgy, agriculture and horticulture. The natural stone sector has already started a pilot project in the area of socially responsible procurement. Preparatory talks are being held with a number of other sectors (e.g. renewable energy).